Curiosity, courage and respect are the hallmarks of any good leader, according to Kate Grant. In the latest instalment of our Leadership Insights Series, Enzen spoke to the Director of the West Midlands Network for Cadent on why she believes these qualities will also help build a sustainable future for the energy industry.
After a lightbulb moment climbing Mount Kenya when she was young, Cadent's Kate Grant realised her passion and purpose was to leave a cleaner and healthier planet for future generations.
Since then, the Director of the West Midlands Network for the UK's largest gas distribution network has earned a Master's in Engineering for sustainable development, worked on the construction and maintenance of Olympic venues in London and been named one of the UK's Top 50 Women in Engineering.
In the latest of Enzen UK's Leadership Insights Series – exclusive interviews with distinguished utilities leaders – Kate shared the valuable insights and wisdom gained during her career to an in-person audience at Enzen's Solihull headquarters, also streamed live to Enzenites around the world.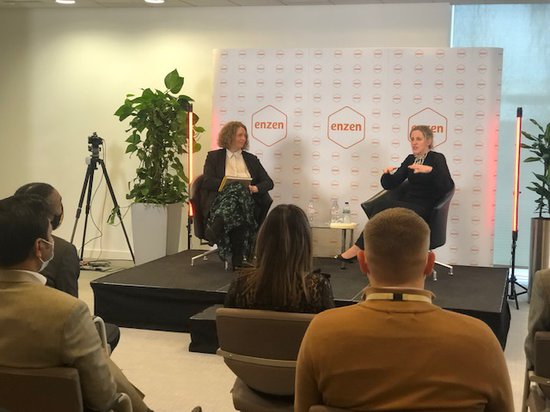 During the 60-minute conversation, Kate spoke to Louise Carter, Enzen UK's Head of People and Culture, about her achievements, her excitement for the future of the gas industry and the challenges she has overcome throughout her career and personal life.
Kate explained how curiosity, cultivating relationships and the courage to make decisions are all essential ingredients in a leader – traits that have served her well in her current role at Cadent, where she leads a team overseeing a 15,000+ mile underground gas distribution network.
As the UK aims for net zero by 2050, Kate shared her views on the opportunities and challenges ahead and how the utilities industry can combine its expertise and talent to lead the shift towards a sustainable future.
The discussion was a hugely valuable insight into what it takes to be an exceptional leader in today's utilities industry, and a reminder that the fundamental principles of leadership are the same, no matter the challenges ahead.
Thank you Kate for sharing your time, expertise and experience with Enzen.