Enzen's dedication and innovation in pursuit of a more sustainable world has been recognised at a prestigious regional awards function in the UK.
We were named the winner of the 'Excellence in Sustainability' category at The Greater Birmingham Chambers of Commerce Annual Awards 2021. The event is one of the most distinguished events of its kind in the UK's second largest city, which is home to Enzen's corporate headquarters.
The award was presented in recognition of our growing contribution to the UK's net zero agenda and our efforts to drive the green industrial recovery from the Covid-19 pandemic. Judges were impressed by Enzen's continued success in delivering excellence in utilities, and our broadening porfolio of innovative sustainability solutions, both across the country and in the West Midlands community.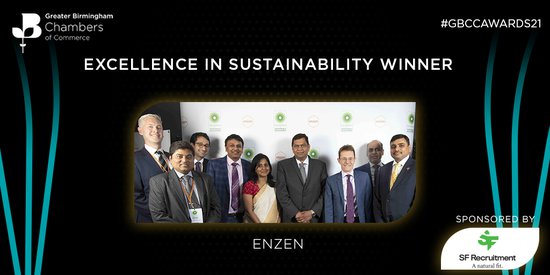 Taking place online, this year's Greater Birmingham Chambers of Commerce Awards were the biggest yet, with a record 85 companies competing in 12 categories.
The event celebrated the significant achievements of these business over the past 12 months and how they've adapted and thrived despite the setbacks of the pandemic.
This is Enzen's third award win in the West Midlands in the last 18 months, which comes after winning 'Business of the Year' at the Signature Awards in February 2020 and 'Large Business of the Year' at the Solihull Chamber of Commerce Awards last October.
The success is more evidence of how Enzen is driving positive, sustainable change within the utilities industry in the UK – and demonstrating leadership and imagination in the face of huge global challenges.
You can watch the Greater Birmingham Chambers of Commerce of Awards 2021 event here.