Enzen will soon be delivering a low-carbon transport option to Miami's commuters, as the city's local authority launches a new micro-mobility solution.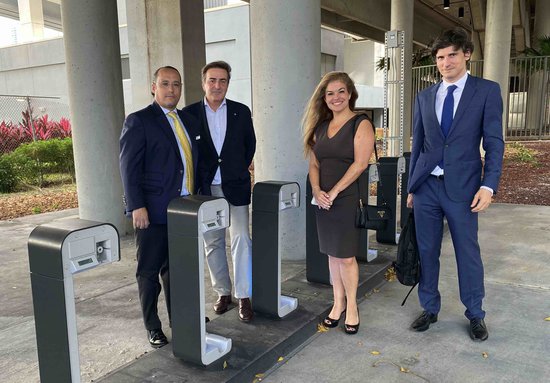 By the end of November, Enzen and Spanish mobility platform Ride-On will install the first phase of an intelligent public bike-sharing system in the city.
The installation will include 23 docking stations for 200 e-bikes and 460 docking points, and will be followed in December and January by three more phases. Altogether, the deal will see Miami's citizens have access to 120 stations with 4,000 docking points and 2,000 e-bikes.
Luis Felipe Suarez-Olea del Arco, Enzen's Global Head of Transaction Advisory, met with Alice Bravo, the Director of the Department of Transportation and Public Works for Miami-Dade County, to announce the launch. They were joined by Miguel Vital, CEO of Ride-On, and Rafael Somoza, the Enzen project manager who will oversee the installation.
Enzen's commitment with Miami-Dade County consolidates our position as a smart cities solutions innovator, and is another step in our mission to address the energy trilemma of security, affordability and sustainability around the world.