Bombora Wave Power, an Enzen group company, has impressed a UK government minister with a new innovation that's helping tackle climate change and drive economic growth in Wales.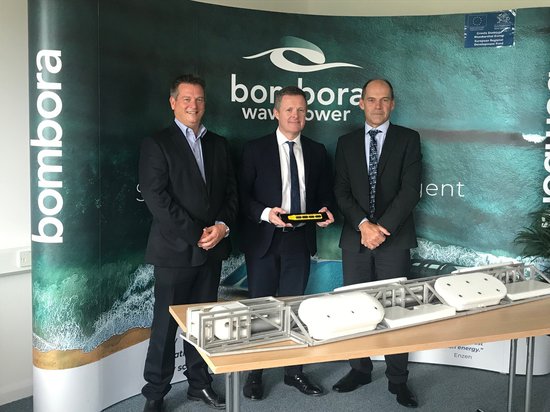 During his VIP visit to Bombora's headquarters at Pembroke Dock, Counsel General for Wales Jeremy Miles learned about the company's ground-breaking mWave™ project.
Fully submerged on the sea floor so it doesn't disrupt ocean users and marine life, the 1.5MW mWave™ will be the most powerful wave energy converter ever built and tap into the ocean's power as a source of sustainable energy.
The Bombora team relocated from Australia to Pembroke Dock in Wales in 2017 to access the area's high concentration of wave resource and highly-skilled marine and industrial supply chain.
With 24 people now employed at the site, and boosted by a £10.3 million European Regional Development Fund grant, Bombora now has plans to continue its expansion and export its solutions to marine energy markets elsewhere in the world.
The ministerial visit illustrates the growing reputation of Enzen and its group company network for driving innovation, economic growth and decarbonisation.
Find out more about Bombora's capabilities here: www.bomborawave.com