Enzen's growing reputation for knowledge and excellence in the Blue Economy was on display at an online conference organised by the Port of Cádiz.
Alexandra de Marichalar, Senior Manager for Energy Advisory at Enzen Spain, showcased our offshore renewables expertise to an audience of around 70 industry figures via a webinar format.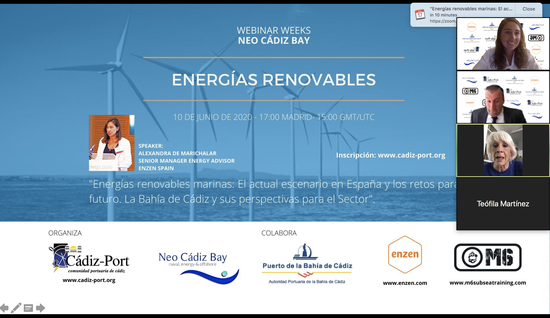 Focusing on the marine energy renewables sector in Spain, Alexandra discussed the current scenario and challenges the sector faces in the future, including the need for updated legislation, robust management and more storage space. A recording of the conference is available here.
The event, organised by the Port of Cádiz as it commences a project to turn the Bay of Cádiz into a logistics hub, garnered extensive media coverage on industry news websites and met with positive feedback from participants.
"The theme of the conference was very well received... managing to capture the attention and interest of the participants," said Teófila Martinez, President of the Cádiz Port Authority. "We are enormously grateful for your presence and we congratulate Enzen on their exceptional contribution to this activity."
The successful conference is another example of Enzen sharing its deep domain expertise to influence the energy industry and drive positive, sustainable change through innovation and knowledge.