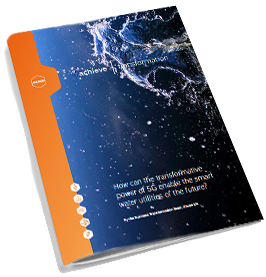 Over the next five years, the water industry will need to address a complex mix of social, economic, environmental, regulatory and technological challenges.
Population is rising rapidly, leading to increased demand for water. Climate change is making decarbonisation a priority for all utilities. Water is an ever scarcer resource and consumers are expecting more than ever in terms of high quality service at the best value.
All this means water companies are under pressure to deliver maximum impact and improved service from their total expenditure. The onus is on them to ensure the cost of bills is managed efficiently while they still deliver an exceptional customer experience, all in the face of growing consumption, increasing scarcity of water and ongoing maintenance issues like endemic water leakage.
In this white paper, we examine how the advent of 5G mobile communications offers one opportunity to address some of these challenges. For low density areas, we look at the relevance of narrowband technologies like LoRaWAN (Long Range Wide Area Network).
To download the white paper fill in the form below: