In our latest webinar, experts from Enzen and Boğaziçi EDAS (BEDAŞ), Turkey's largest electricity network, will discuss how to build more resilient and sustainable grids through the innovative use of predictive analytics. The event takes place on:
Tuesday 13 December

0800 Solihull
0800 Lisbon
0900 Madrid
1100 Istanbul
1330 Bangalore
1830 Adelaide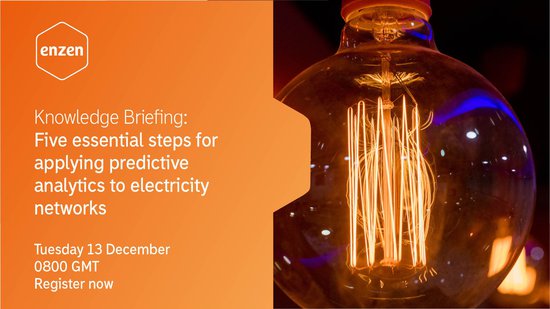 During the webinar, the panel will focus on five planning imperatives that utilities should consider when seeking to implement predictive analytics into electricity networks. Experts will draw on insights from their collaborative development of an innovative decision platform that delivers proactive fault prediction through Machine Learning.
Created in partnership with Enzen group company Enertest and data platform specialist BDB, the solution offers valuable insights into how to prevent network faults, reduce customer outages and provide a high quality, affordable customer experience.
The agenda covers lessons learnt and best practices in:
selecting the right use case
obtaining stakeholder commitment
managing data
selecting the data platform
realising the benefits
The panel will be made up of expert practitioners in the field of digital solutions for power networks. It includes:
Seyit Cem Yilmaz, R&D Manager, BEDAŞ, DSO
Rohit Kastuar, CEO, Enzen Turkey
Okan Benli, Client Director, Enzen Turkey
Sandeep Khemani, Vice President, BDB
The webinar will provide an excellent insight into lessons learned from BEDAŞ's proactive fault prediction Machine Learning software project. Supported by Turkey's Energy Market Regulatory Authority, BEDAŞ serves the country's largest electricity consumption region and is its biggest power distribution company in terms of customers.
During the webinar, the panel will answer questions from those taking part, so please get in touch to share your point of view. You can also send questions in advance to corporate.communications@enzen.com.
Register now
To register for the webinar, please click here.