What are the latest cyber threats to the utilities industry? What risks do they pose to our Critical National Infrastructure (CNI)? And how can Smart Cybersecurity provide the solution?
In our latest webinar, Steve O'Sullivan, Enzen UK's Head of Cyber Practice, joined fellow cybersecurity specialists to discuss why it is critical for CNI players to adopt smart, sustainable and future-proof solutions.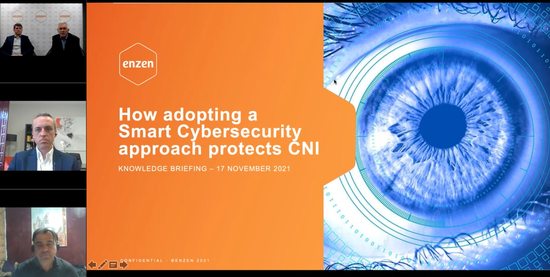 Steve has more than 25 years experience in cybersecurity, digital transformation and consulting and is one of only four people in the UK to be accredited as a Smart Cities and Critical Infrastructure Professional.
He was joined by fellow cybersecurity specialist Enrique Villa Crespo, Chief Technology Officer at Wellness Techgroup, and Alan Mihalic, Founder and President of the IoT Security Institute and co-author of the IoT Security Framework for Smart Cities and Critical Infrastructure.
The hour-long session was moderated by Jon Fisher, Chief Marketing Officer of the Enzen Group, and is available to watch here.
During the webinar, the panel discussed how a Smart Cyber and Digital Risk approach offers CNI players effective risk management, asset protection and regulatory compliance at reduced cost.
To learn more about the issues discussed in the webinar, please contact Steve O'Sullivan at steven.osullivan@enzen.com.